Adorable Poodle Puppies in Greenville, SC
Poodle Mojo is in South Carolina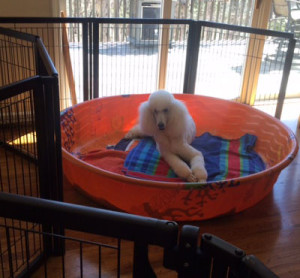 We service the Greenville, Charleston, Myrtle Beach, Hilton Head, Columbia areas of South Carolina. Also servicing the Atlanta, Georgia area and the Charlotte, Asheville, Greensboro and Durham areas of North Carolina. However, we have puppies as far north as NY and PA and as far south as Florida and as far west as Texas and Nevada. If you are willing to travel either by car or air we are happy to provide one of our beautiful Standard Poodle puppies. Please contact us for details.
 If interested in any upcoming litter please fill out the Puppy Application form.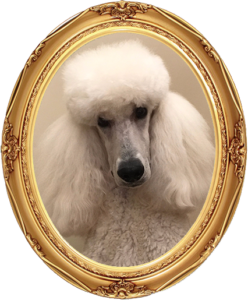 Roxie and Yukon's Litter Born December 8, 2017
3 White Males – 3 Black Males; 2 White Females, 2 Black Females
All puppies have found their forever homes.
We had three puppies that have gone into training for a Diabetes 1 Service Dog!
Many Thanks to Miracle Paws in Anderson SC for their tireless work to help these families obtain the quality Service Dog they need! http://miraclepaws.org
Our next litter that we are looking to breed for in the Spring is the Matilda/Jackson Litter.
Deposits for upcoming Litters:
Nancy M. – SC – White Male
Diane R. – NC – Prefers Black Female – Deposit Confirmed
Breeder always reserves the right to keep the 1st pick out of any litter.
Breeding Rights are only given to a few approved breeders and ALWAYS with Co-Ownership!