About Eva Jolie
Eva is a very athletic girl. She loves to run and jump. However, she is never very far from her human companions. In fact she loves to walk close to our side and even put her nose in our hand as if to say: I love you!
Please click here to go to Eve Jolie's page.
About Roxie
Roxie has grace, elegance and speed all wrapped up in one little package. Her foot work is amazing! She can out run, out maneuver and most of the time out smart her other Poodle Sisters.
She has a great pedigree with many Champion Titles including CH JC Pioneer's Kaiser.  Check out her pedigree on PoodleData.org
Please click here to go to Roxie's page.
Lily
Brandy
Natasha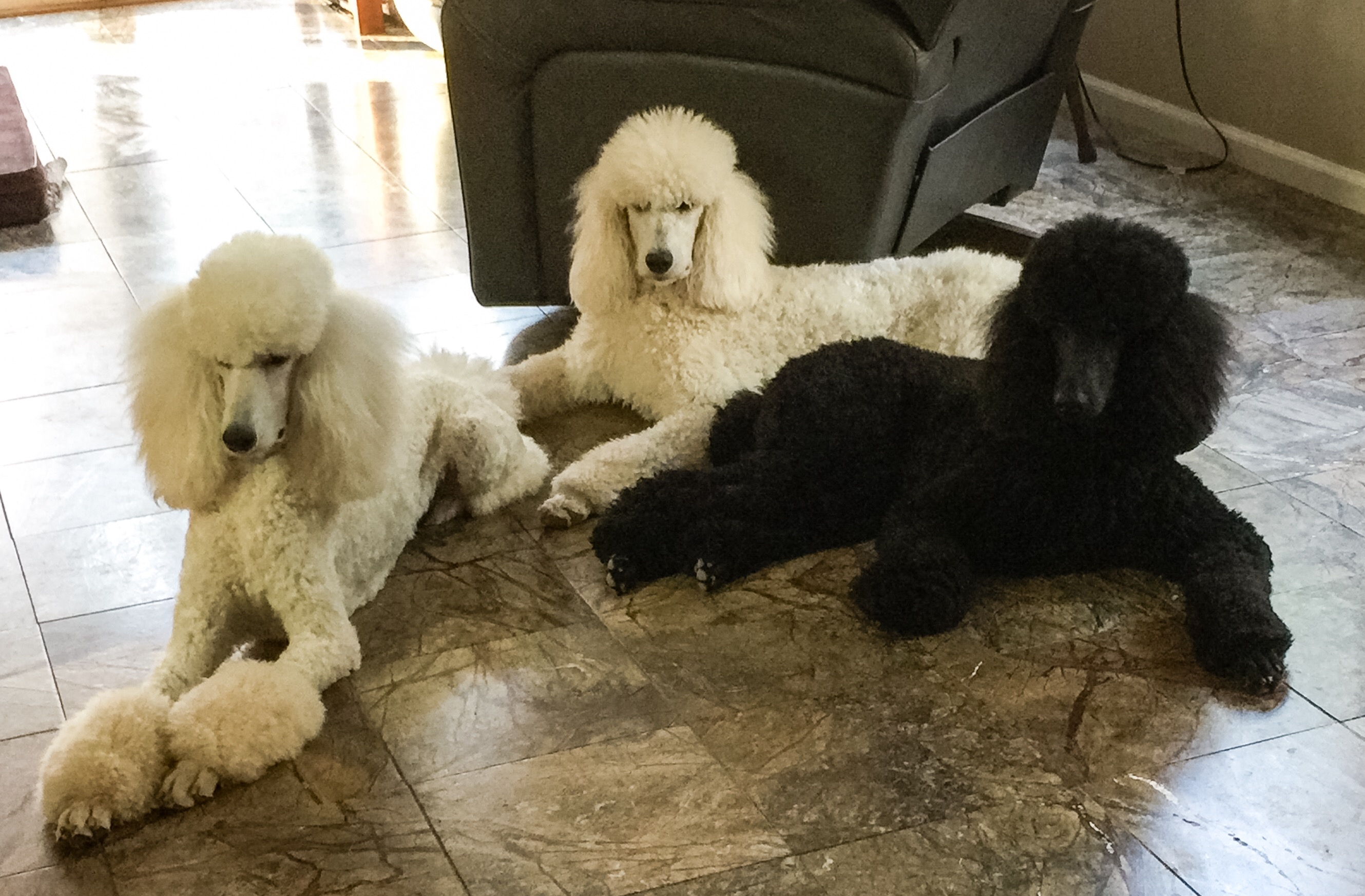 Our wonderful Girls! They are a wonderful part of the members of Team Mojo. They play and sleep and love life! If they are no longer mothers they become Aunties that help in the Socializing and Training of the upcoming puppies.
About Katie
Grace and 'a stinker' all wrapped in one elegant package. She loves to prance and catch everyone's attention. She loves to tease both her other canine companions and her human family.
However, she is a wonderful mom and 'aunt'. She helps us with the training of all our puppies. She is strict and yet playful. Most of all she loves to snuggle and just hang-out with everyone.
Please click here to see more pictures, her health clearance and her Pedigree.
About Bianca:
Sweet, lots of sweetness, graceful, playful, bonded, loves to let us know when someone is in the yard, however, she takes the que from her family (pack) and greets with much sweetness. She is always near by for the next adventure or to just hang-out.
She loves to play ball, to retrieve, and she is a natural. She saw the game played with the other Poodles and stepped right in to join. One time showing her to Come and Drop and that is all it took.
Please click here to see more pictures, her health clearance and her Pedigree.
Matilda